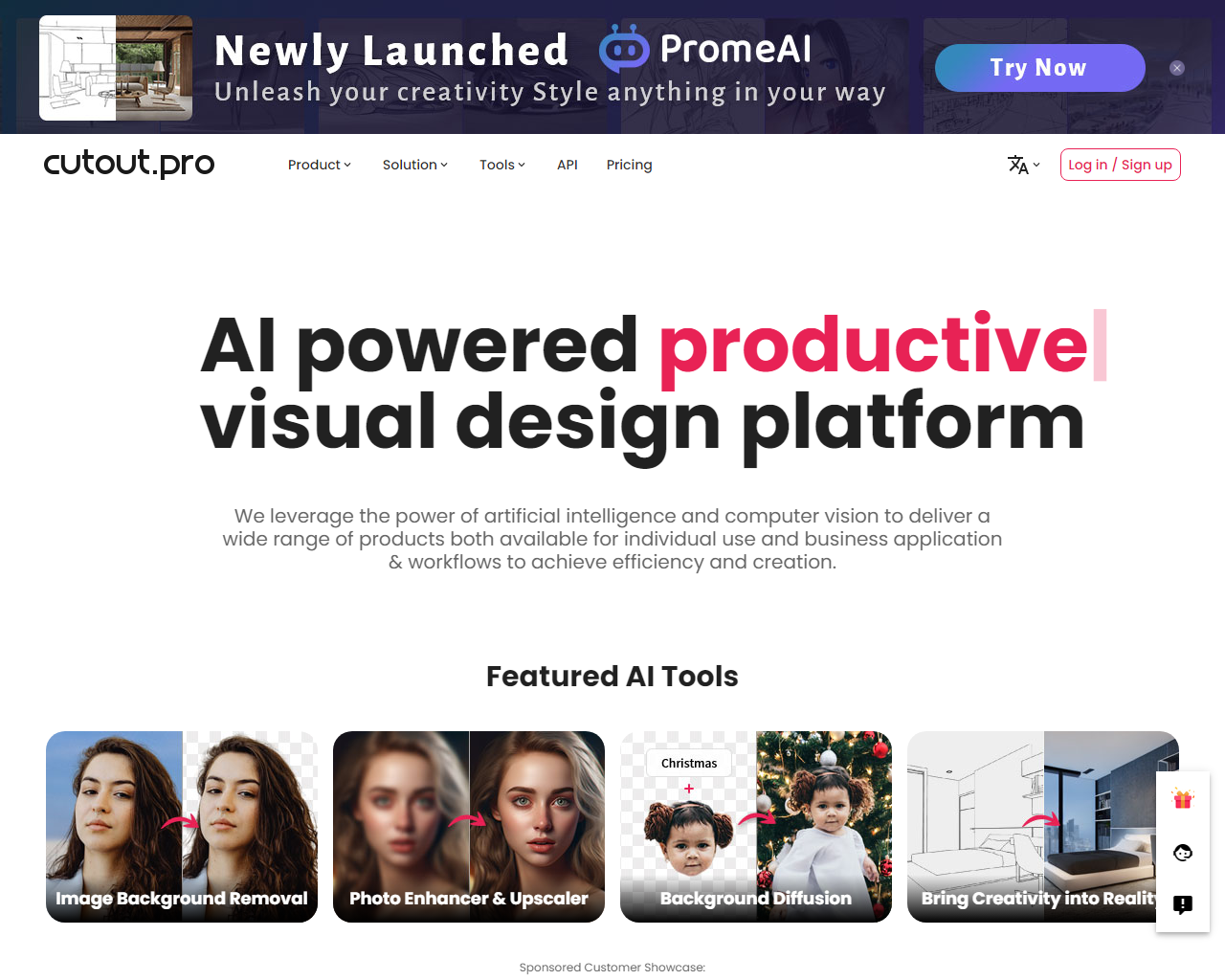 What is Cutout.Pro?
Cutout.Pro: The Ultimate AI Photo and Video Editing Platform for Stunning Visual Content
Last month visits
11.2M
Cutout.Pro: An AI-Powered Image and Video Processing Platform
Cutout.Pro is an AI-powered SaaS company that specializes in image and video processing and generation. It provides a wide range of products both available for individual use and business application & workflows to achieve efficiency and creation. The mission of Cutout.Pro is to provide businesses and individuals with powerful tools that help them create stunning visuals for their branding, marketing, and personal use.
Cutout.Pro Highlights
AI-Powered: Cutout.Pro leverages the power of artificial intelligence and computer vision to deliver a wide range of products.
Versatile: It offers a comprehensive range of features and capabilities to suit a variety of image processing needs.
User-Friendly: The platform is designed to streamline the image editing and video production process, making it easier and more efficient for users to achieve their vision.
Flexible Pricing: Cutout.Pro offers flexible pricing plans that cater to a range of budgets and requirements.
Cutout.Pro Features
Cutout.Pro offers a variety of features:
Image Background Remover: Remove the background of any image with ease.
Video Background Remover: Remove the background from videos.
Retouch-remove Objects: Remove unwanted objects from images.
Face Cutout: Segment faces and hair for humans (kids and adults) and pets (cats, dogs, etc.) with hair-level fine details.
Background Diffusion: Diffuse the background of images.
Cartoon Selfie: Turn your portrait into a cartoon selfie with different styles.
AI Art Generation: Generate art using AI.
Photo Enhancer-Sharpener & Upscaler: Enhance photo resolution, quality, and detail.
Anime Enhancer: Enhance anime images.
AI Video Enhancer: Enhance video quality and detail.
Photo Colorizer: Colorize black and white photos.
Photo Animer: Turn photos into moving videos.
Passport Photo Maker: Create professional passport/visa/id photos.
E-Commerce Auto Design: Create high-quality e-commerce images.
Blur Background: Create stunning photos with gorgeous background blur like DSLR camera.
Meme Generator: Generate memes.
Cutout.Pro Use Cases
Cutout.Pro can be used in various scenarios:
Removing unwanted objects from images.
Enhancing photo resolution and quality.
Creating professional passport/visa/id photos.
Restoring old family photos back to their full glory.
Cutout.Pro Pricing Model & Details
Cutout.Pro uses a credit-based pricing model. Here are the details:
Free Account: Free previews forever, 5 free credits. Get more free credits if you have an invitation code.
Subscription Plan: Roll over up to 5× your monthly credit budget. Prices range from $5.00 for 40 credits/month ($0.125/credit) to $69.00 for 1200 credits/month ($0.058/credit).
Pay as you go: Credits available for use forever. Prices range from $2.99 for 3 credits ($0.997/credit) to $1399.00 for 10000 credits ($0.140/credit).
Top Cutout.Pro Alternatives
Here are some top alternatives to Cutout.Pro:
Remove.bg: An app that removes the background of any photo.
Clipdrop: A tool for creating professional visuals without a photo studio.
PhotoScissors: A tool that provides an extremely easy way to cut a background out of an image.
Unscreen: A tool that removes video backgrounds 100% automatically.
Added on October 01 2023