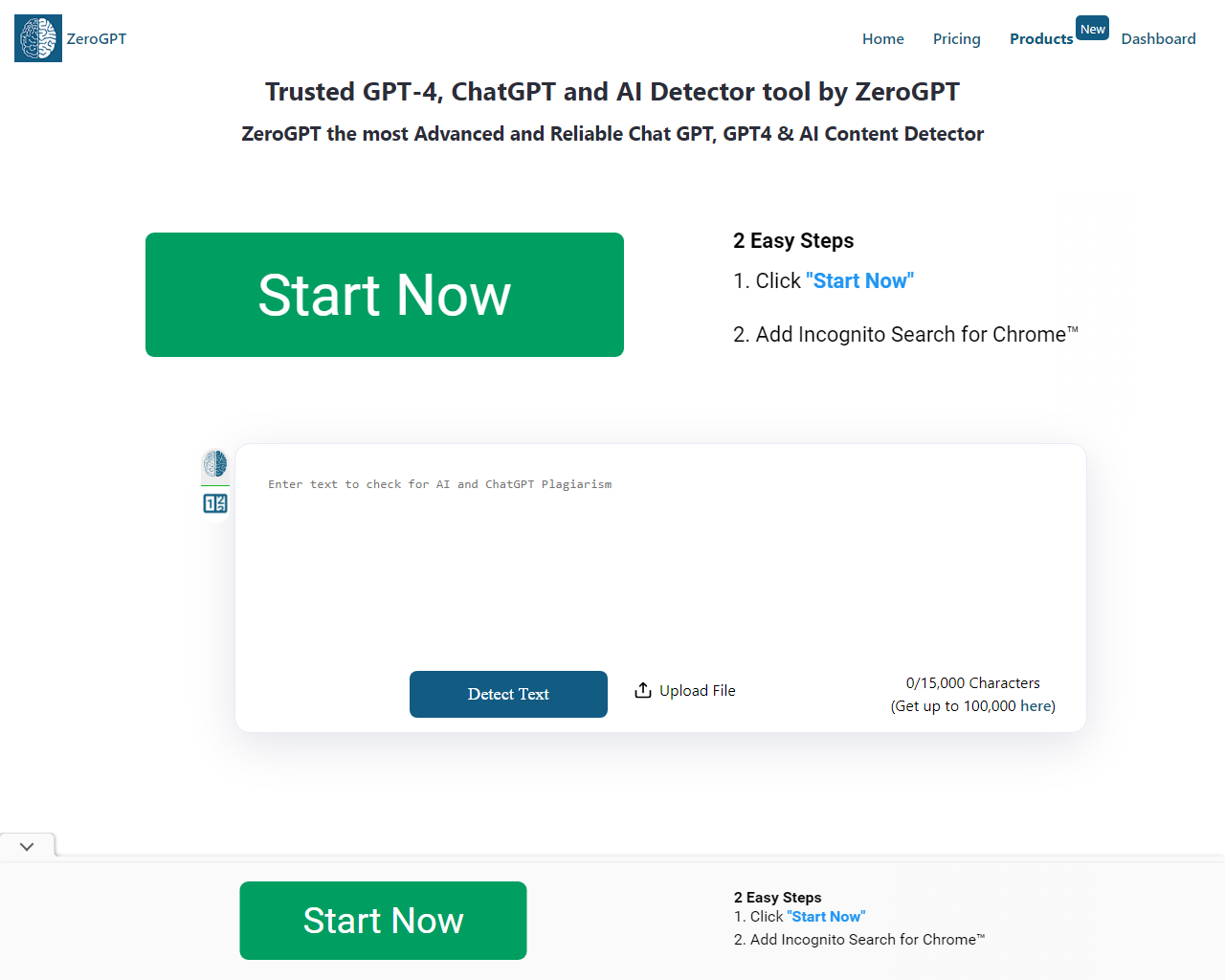 What is Zerogpt?
ZeroGPT: Advanced AI Content Detection Software for Uncovering AI-Generated Text
Last month visits
5.5M
ZeroGPT Product Overview
ZeroGPT is a text detection tool that employs AI technology to help users distinguish between content generated by AI tools and human-written content. It's designed to detect whether a given text is generated by an AI tool like ChatGPT or Google Bard, or if a human writes it. It's relied upon by millions of users, including students, educators, professional writers, freelancers, and copywriters.
ZeroGPT Features
Accurate detection: ZeroGPT claims to have developed an algorithm with an accuracy rate of text detection higher than 98%.
Easy to use: ZeroGPT's AI content detector tool is straightforward and user-friendly. Users can enter their text and analyze it with the tool's complex algorithms.
Privacy: The privacy of users is a top concern for ZeroGPT.
Supports multiple languages: ZeroGPT gives you highlighted sentences showing AI percentage and supports multiple languages.
Bulk uploading: It even allows for bulk uploading to analyze multiple files.
ZeroGPT Use Cases
ZeroGPT's AI content detector can be valuable in various scenarios:
Teachers and Educators: It serves as an AI essay detector, helping teachers identify AI-generated content and combat plagiarism.
Organizations and Businesses: ZeroGPT's API can be integrated into large-scale systems to detect AI-generated text and ensure content credibility.
Researchers and Writers: The tool enables researchers and writers to verify the authenticity of text generated by AI models, ensuring accurate citations and avoiding unintentional plagiarism.
ZeroGPT Pricing Model & Details
ZeroGPT offers a free tier for personal use. This means that you can use ZeroGPT for free, provided you use it for personal purposes. With the free subscription you analyze up to 100 texts per month.
For more frequent usage, ZeroGPT offers two paid plans:
Basic Plan: Priced at $50 per month, allows you to analyze up to 10,000 texts per month.
Pro Plan: Priced at $100 per month, caters to users with significant text analytics requirements.
Top ZeroGPT Alternatives
Some alternatives to ZeroGPT are:
ContentDetector.AI: A free online tool that detects AI content and plagiarism
Odrin: A SaaS platform that helps publishers and authors detect and prevent AI content fraud
PlagiarismCheck: A web-based service that checks for plagiarism and citation errors
Quetext: A plagiarism checker and citation assistant that uses deep search technology
Undetectable.ai: A tool that helps writers create original and undetectable AI content
Added on October 01 2023