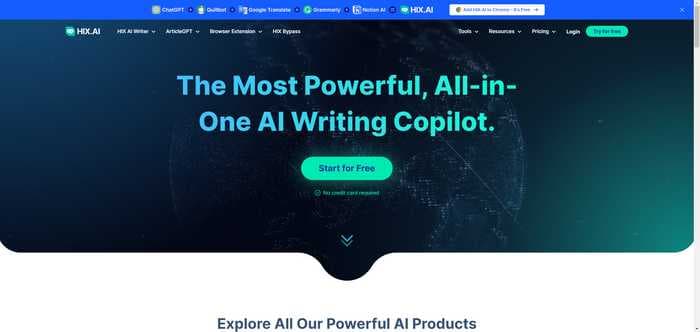 What is HIX AI?
Your Most Powerful, All-In-One AI Writing Copilot
Last month visits
557.7K
HIX.AI Overview
HIX.AI is your most powerful, all-in-one AI writing copilot. It's designed to end writer's block and help you create any content in seconds, not days. With over 120 AI tools, HIX.AI refines your drafts to perfection. It supports over 50 languages and helps you spread your message globally.
HIX.AI is an advanced AI writing tool designed to assist you in various writing tasks. It offers a range of features that can help you create high-quality content efficiently. Whether you're crafting a blog post, an engaging email, or simply seeking inspiration, HIX.AI is here to be your writing partner.
HIX.AI Features
AI Writer: The core of HIX.AI, capable of producing blog posts, articles, product descriptions, and more, all optimized for SEO and free from plagiarism.
HIX Editor: An integrated word processor that simplifies drafting, rewriting, and editing tasks.
HIX Chat: An intelligent chatbot that provides real-time assistance.
AI Summarizer: This tool condenses lengthy text into shorter, more concise versions.
AI Paraphraser: Rewrites text while retaining its original meaning.
Grammar Checker: Identifies and corrects grammar errors in your writing.
HIX.AI Use Cases
Crafting Informative and Engaging Content: Crafting informative and engaging blog posts, articles, and press releases with the Long-form AI Writer.
Creating Catchy Headlines: Creating catchy headlines, slogans, taglines, and captions using the Short-form AI Writer.
Composing Compelling Emails: Composing compelling emails, newsletters, and sales pitches with the HIX Email Writer.
Crafting Creative Stories: Crafting creative stories, poems, songs, and jokes with the HIX Creative Writer.
Developing Video Scripts: Developing video scripts, podcast scripts, and webinar content with the HIX Script Writer.
Writing SEO-friendly Content: Writing SEO-friendly content with the HIX SEO Writer.
Rewriting, Summarizing, Proofreading, and Improving Any Text: Rewriting, summarizing, proofreading, and improving any text with the HIX Rewriter.
HIX.AI Pricing Model & Details
HIX.AI offers several pricing plans:
Free: $0 per month, includes 3,000 words (GPT-3.5).
Basic: $19.99 per month, includes 300,000 words (GPT-3.5) and 10,000 words (GPT-4).
Pro: $39.99 per month, includes 600,000 words (GPT-3.5).
Top HIX.AI Alternatives
The top alternatives to HIX.AI include:
Notion
Grammarly
Quillbot
LINER AI
Top HIX.AI FAQs
1. Is Hix AI free?
Yes, Hix AI offers a free plan that enables users to access all of the general features and tools within Hix AI's ecosystem. However, they also offer paid plans for more extensive use.
2. Can I get AI to write my essay?
Yes, there are several AI essay writing tools available, including PerfectEssayWriter.ai, Essaybot, FreeEssayWriter.net, MyEssayWriter, College Essay AI, HixAI, Jasper AI, Textero AI, and Quillbot. These tools can help you generate new paragraphs, complete sentences, and rephrase your work to avoid plagiarism.
3. What is the best AI writer for essays?
Based on the search results, the best AI writers for essays are:
Jasper AI: It is considered the best tool for all types of essay writing.
Rytr: It is an affordable AI writer.
HixAI: It is most powerful, all-in-one AI writing copilot.
GrammarlyGO: It is the best overall AI writer.
Copy.ai: It is best for copywriting.
Anyword: It is best for assisting you with writing.
Sudowrite: It is best for fiction.
Writer: It is a non-GPT option.
Writesonic: It is best for GPT-4 content.
Tags: hix.ai essay writer, hix ai essay extender, hix.ai online paraphraser, hix ai summarizer
Added on November 14 2023