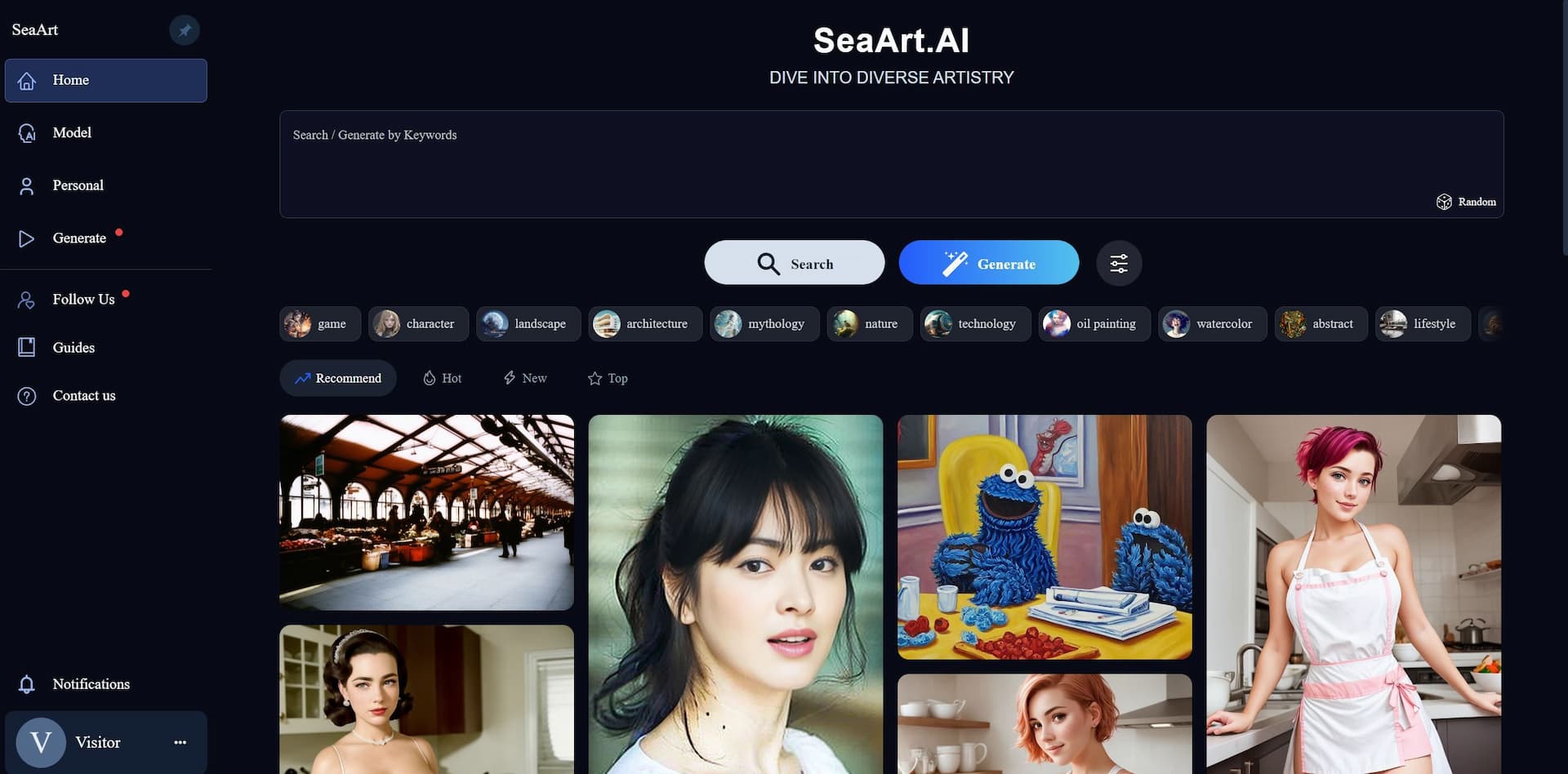 What is SeaArt?
SeaArt AI - an art creation platform for all people, discover creativity, capture inspiration, and create instantly
Tags
Last month visits
4.4M
Seaart.ai Overview
Seaart.ai is an AI-powered platform that allows users to create high-quality images without requiring professional skills. It's a powerful suite of tools for AI image generation wrapped in an intuitive, community-focused web app. Using the power of the open-source Stable Diffusion, Seaart.ai provides easy access to some of the most powerful extensions including ControlNet for creating images based on other images.
Seaart.ai Key Highlights
AI-Powered Creativity: Seaart.ai uses AI tools to spark creativity and automate the process of creating graphics, pictures, and writing.
Variety of Styles and Formats: Seaart.ai offers a variety of styles and formats for different purposes and platforms.
Cloud-Based Platform: Seaart.ai operates entirely on the web, meaning users don't need to download or install any additional software.
Seaart.ai Features
Model Variety: Access a library of pre-trained models for diverse art styles, from realistic to anime.
Upscaling: Effortlessly enhance your images by uploading them for AI-powered upscaling.
Fine-Tuning: Adjust parameters to refine your artwork's output, ensuring it matches your vision.
Editing Tools: Crop, resize, add text, and perform various edits to customize your art.
Seaart.ai Use Cases
Seaart.ai is used for various scenarios.
It allows you to easily generate high-quality images without requiring professional skills, making it suitable for various scenarios.
High-quality creations are near at hand with its rich model library, professional settings, intelligent recommendation systems, and community interaction features.
Seaart.ai Pricing Model & Details
Seaart.ai offers a free version of its AI painting tool.
However, it may have limitations on the number of images you can generate per day or the image size you can download.
For more extensive usage, a premium plan is available at $9.99 per month, providing unlimited access.
Some users have encountered mentions of a pricing structure involving VIP membership and credits, priced at approximately $15 per month.
Top Seaart.ai AI Alternatives
Some of the top AI alternatives to Seaart.ai include:
Midjourney
Craiyon
Stable Diffusion Online
DALL-E 3
Microsoft Designer
DiffusionBee
Playground AI
ZMO.AI
Adobe Firefly
Runway
Invoke AI
DreamStudio
Fermat
getimg.ai
Easy-Peasy.AI.
Tags: seaart app, seaart free, is seaart.ai free, seaart ai login, seaart ai pricing, seaart ai discord, seaart models
Added on May 18 2023