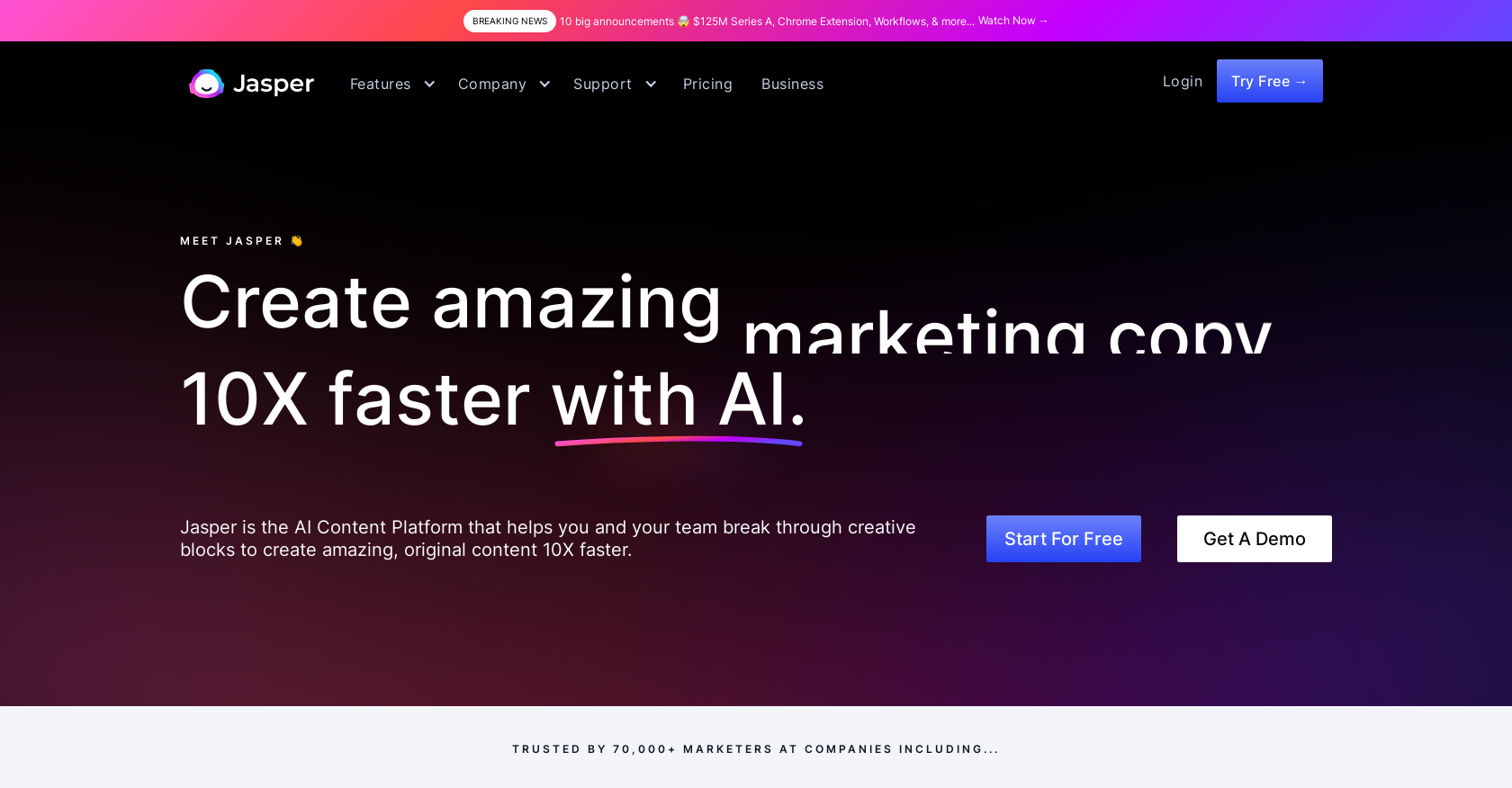 What is Jasper?
Increase your content creation speed by tenfold using an AI-driven copywriting tool.
Tags
Last month visits
3M
Jasper AI: Product Overview
Jasper AI is a content generation platform that uses advanced AI technology to help writers create long-form content like books, essays, and blog posts. It's a robotic writer powered by cutting-edge AI technology that can curate content 5x faster than an average human copywriter. It's also user-friendly and has features that other AI tools lack.
Jasper AI Features
Text and image AI generation: Jasper AI can generate both text and images.
Integration with Grammarly and other Chrome extensions: It can be integrated with Grammarly and other Chrome extensions for enhanced functionality.
Revision history: It keeps a record of all the revisions made.
Auto-save: It automatically saves your work.
Document sharing: You can easily share documents with others.
Multi-user login: It supports multiple users.
Plagiarism checker: It checks for plagiarism to ensure originality.
Brand voice customization: It allows you to customize the brand voice.
Jasper AI Use Cases
Jasper AI is used by over 100,000+ companies to level-up web, emails, ads, and more.
It can turn long-form content into digestible short-form content and boost the productivity of your internal writers.
Jasper AI Pricing Model
Jasper AI offers a few different pricing plans:
Starter Plan: Starting at $24/month
Boss Mode Plan: Starting at $49/month
Business Plan: Custom offerings
Jasper AI Pricing Details
The monthly Jasper AI subscription starts at $49/month, while the yearly subscription starts at $499/year.
Businesses can enjoy discounts based on the number of users or compute resources required for their project.
Top Jasper AI Alternatives
There are several alternatives to Jasper AI that can generate marketing copy, articles, or rewrite content using AI. Some of them are:
WriteSonic: It can generate content in multiple languages.
Simplified: It offers a range of tools to generate content.
Copy.ai: It has many templates and paraphrasing options.
Quillbot: It provides a variety of templates.
Added on November 04 2022