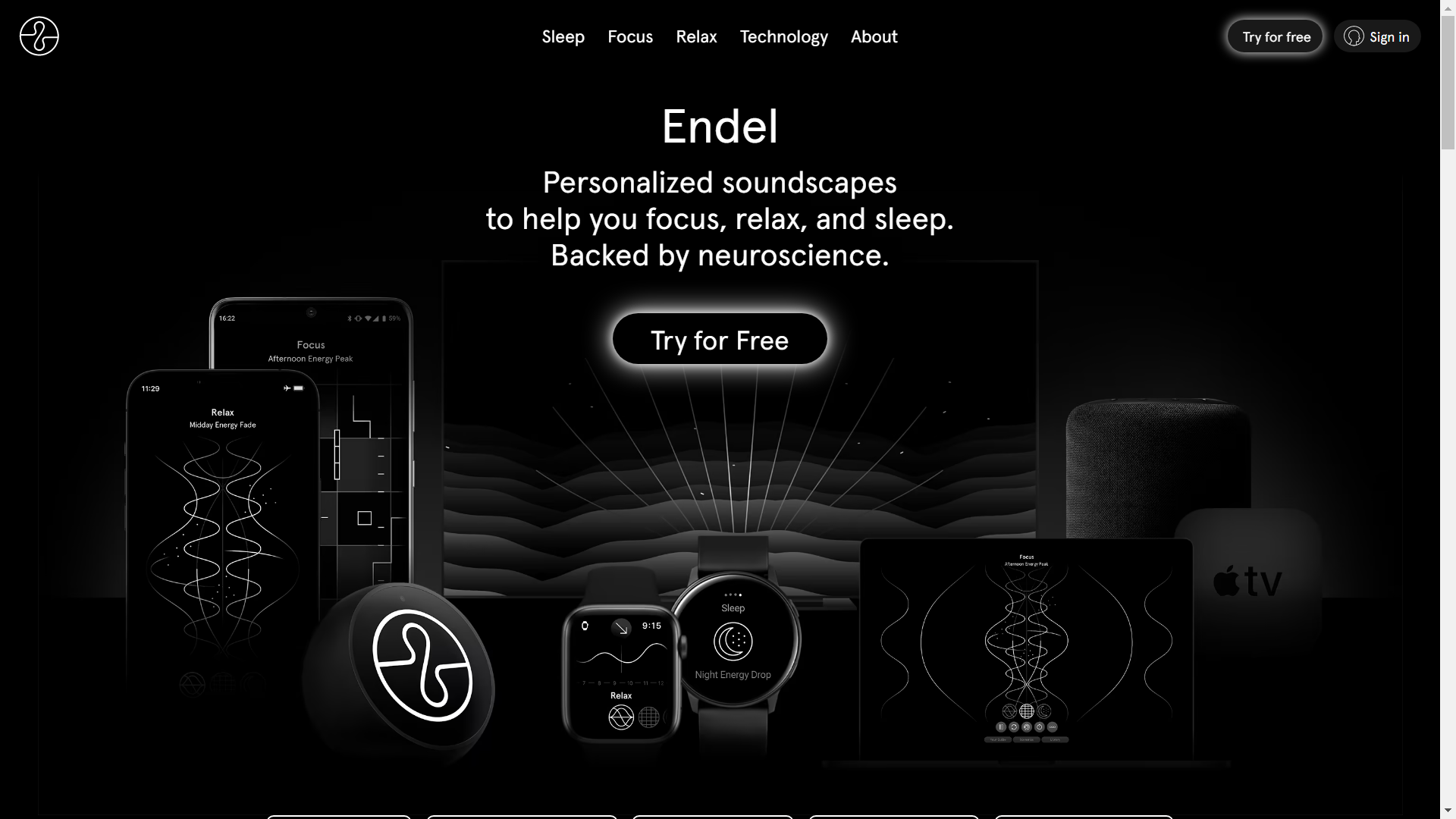 What is Endel?
Endel offers personalized soundscapes designed to enhance concentration, induce calmness, and promote better sleep.
Tags
Last month visits
328.1K
Endel Product Overview
Endel is a cross-platform audio ecosystem that creates personalized, sound-based, adaptive environments to help people focus and relax. It's an AI-powered software that generates endless, personalized soundscapes to help you focus, relax, and sleep.
Endel Features
Adaptive Soundscapes: Endel's patented technology creates soundscapes that adapt in real-time. It reacts to inputs like time of day, weather, heart rate, and location.
Focus Mode: Boosts your productivity by helping you concentrate for longer.
Relax Mode: Calms your mind to create feelings of comfort and safety.
Sleep Mode: Soothes you into a deep sleep with soft, gentle sounds.
On-the-Go Mode: Powers your movement with sounds to keep you present and grounded.
Personalized Experience: The app uses real-time inputs, including heart rate and circadian rhythm, to give you the most relaxing experience possible.
Endel Use Cases
Endel provides three primary soundscapes: Focus, Relax, and Sleep. Each soundscape is able to extract key local data about individuals, such as time of day, weather, and the amount of natural light, to help generate sound environments that improve these key states. It's a great tool for anyone looking to enhance their focus during work or study sessions, relax after a long day, or improve their sleep quality.
Endel Pricing Model & Details
Endel offers a 7-day trial to experience the app. After the trial period, it's available for subscription at different rates:
Monthly subscription: $5.99/month
Yearly subscription: $49.99/year
Lifetime subscription: $89.99 (Mac App Store lifetime subscription is cheaper than the $249.99 price on iOS)
Top Endel Alternatives
There are several alternative products to Endel available in the market. Some of the top alternatives include:
myNoise (Free)
Noice
Blanket
Calm
Brain.fm
Added on November 04 2022