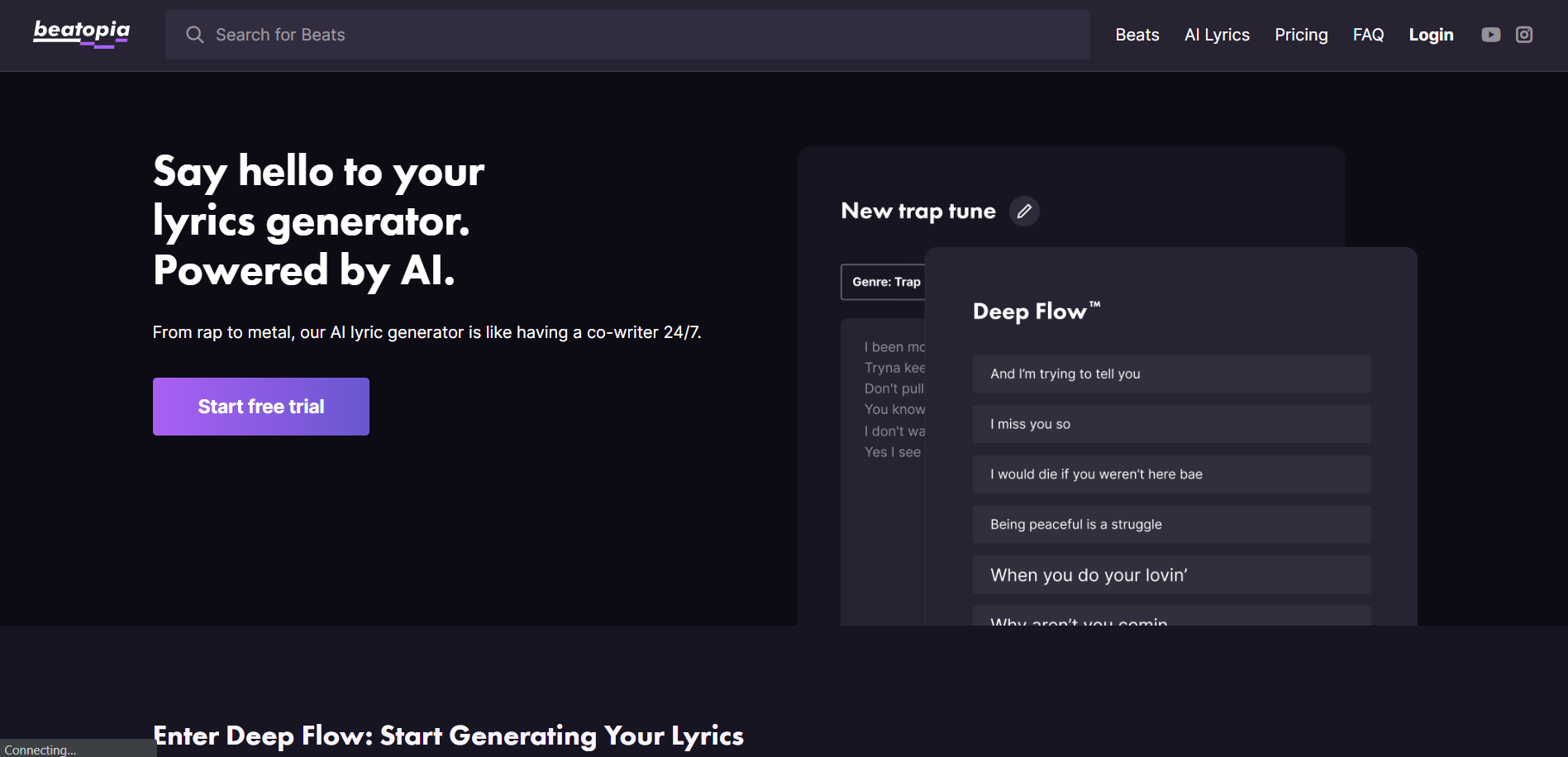 What is Beatopia?
Craft better songs with AI lyrics and beats from Grammy winners.
Tags
Last month visits
1.5M
Beatopia Features
Beatopia is a revolutionary platform that transforms the process of creating music, offering musicians a robust set of tools to craft exceptional songs. With AI-generated lyrics and exclusive beats from Grammy-winning producers, Beatopia ignites creativity and unleashes the full potential of musicians.
Key Features:
AI-Generated Lyrics: Beatopia's AI co-writer provides real-time suggestions for phrases, words, and rhymes, assisting users in overcoming writer's block and staying inspired throughout their songwriting journey.
Hot Beats by Hitmaker Producers: Gain access to exclusive beats crafted by renowned producers who have collaborated with A-list artists, ensuring high-quality and unique sounds for your tracks.
Subscription Model: Say goodbye to Pay-Per-Track limitations. Beatopia's subscription offers a vast collection of beats, allowing musicians to freely experiment with more tracks and unlock limitless creativity.
Unlimited License: Each track comes with an unlimited license, granting users complete freedom to utilize the beats in various ways, from going viral to performing live or creating music videos.
Wav & Stems: Every beat includes professionally mixed .wav files and 5 stems (multitrack), enabling musicians to fully customize and arrange the track according to their artistic vision.
Use Cases:
Songwriting Perfection: Beatopia's AI-powered co-writer offers valuable lyric suggestions, enhancing the quality and creativity of songwriting.
Exclusive and High-Quality Beats: Access exclusive beats crafted by top-tier producers, ensuring your songs stand out and shine with professional-grade sounds.
Unlimited Creativity: Embrace the freedom of unlimited beats with the subscription model, experiment with various tracks, and explore your musical potential without constraints.
Versatile Usage: Enjoy the flexibility of the unlimited license, allowing you to use the beats across different platforms and projects, from viral content to live performances and music videos.
Beatopia is not just a music creation tool; it's a powerful and inspiring companion for musicians, providing AI-driven support in songwriting and granting access to exclusive, top-notch beats. Whether you're an experienced artist or an aspiring musician, Beatopia opens doors to boundless creativity, elevating your musical journey to new heights.
Added on August 06 2023