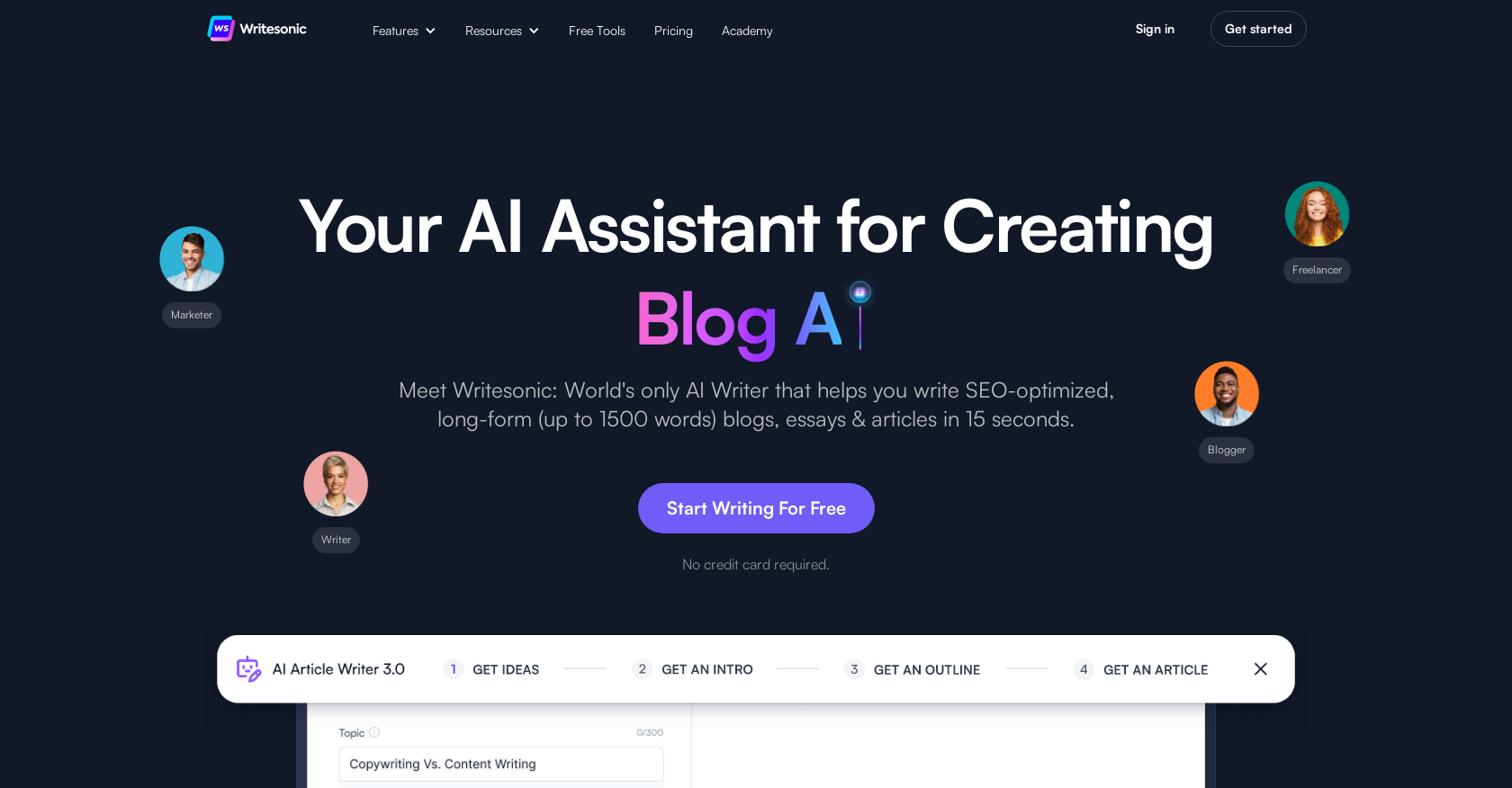 What is Writesonic?
Generate search engine optimized content using artificial intelligence for blog posts, websites, and articles.
Tags
Last month visits
5M
Writesonic Overview:
Writesonic is a one-stop AI engagement platform for all your content needs1. It ffers a wide range of AI-powered products like Chatsonic (ChatGPT with superpowers), Botsonic (no-code, custom AI chatbot builder), Photosonic (AI image generation), and 100+ AI writing features on the web app.
Writesonic Product Highlights:
AI Content Creation: Writesonic can write on-brand, factual articles in no time and rank #1 on Google.
ChatGPT like Chat: Meet Chatsonic — Your generative AI conversation partner.
No-code AI Chatbot Builder: Build no-code AI chatbots on your own data with Botsonic.
Real-time Trending AI Generations: With Chatsonic's Google Search integration, engage in real-time conversations on current events and trending topics effortlessly.
AI-generated artwork: Elevate your visuals with Chatsonic's ability to create striking digital AI art for social media posts and digital campaigns.
Writesonic Features:
AI Article & Blog Writer: Write articles, blog posts, and other long-form content like sales emails, ebooks, and more within seconds.
Content Rephrase: Rephrase your content to make it unique and engaging.
Sentence Expander: Expand your sentences to make them more detailed and informative.
Product Descriptions: Craft epic product descriptions for your eCommerce store.
Facebook Ads & Google Ads: Create high-performing Facebook Ads and Google Ad titles to generate more leads.
Writesonic Use Cases:
Writesonic can be used for various purposes such as marketing, content creation, social media management, SEO, creative writing, coding, game development, building applications, design, product development, language translation, customer support, entrepreneurship, education, job search, freelancing, finance, relationships, meal planning, and personalized recommendations.
Writesonic Pricing Model & Details:
Writesonic operates on a subscription-based model with different pricing tiers or plans based on usage and features.
The pricing plans often include different levels such as Free, Basic, Pro, and Enterprise.
The Basic plan costs $15 per month and offers 100 credits, support for up to 25 languages, and access to all existing features.
The Professional plan costs $45 per month.
The Startup plan costs $95 per month.
The Agency plan costs $195 per month.
Plans for Writesonic start at $12.67 per month when paid annually or $19 per month when paid monthly.
Top Writesonic Alternatives:
Some of the alternatives to Writesonic are:
Writer
Hypotenuse AI
InferKit
Jasper AI
HubSpot
Marketo
Pardot
ActiveCampaign
Salesforce Marketing Cloud
Snazzy AI
Contentbot.ai
Grammarly Business
Anyword
Added on November 04 2022