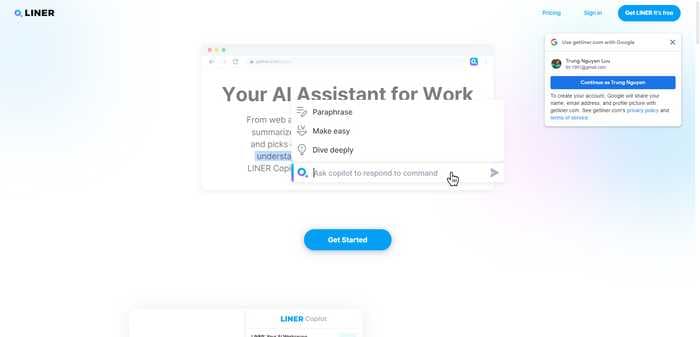 What is LINER AI?
Your AI Assistant for Work. Understand content much faster with LINER Copilot.
Last month visits
65.8M
LINER Introduction
LINER is a smart Youtube highlighter and web search assistant platform that enables you to quickly highlight a web page or PDF file. It allows you to discover the best of the internet, as filtered by millions of smart people all around the globe by enabling content highlighting from anywhere.
LINER Highlights
LINER has been #1 for several years in the Chrome Web Store and the App Store.
LINER helps you find and learn reliable information faster.
Discover the highlights of the web, filtered by millions of intelligent people around the world.
LINER Features
AI-powered: LINER AI will bring you the most accurate answers swiftly.
Highlight Everywhere: Highlight on articles, YouTube, Images, PDF.
Save Everything That Helps: Save important information in one place. Access it from anywhere anytime.
Differentiate your highlights with different colors: Differentiate your highlights by various colors. 2 Colors for Basic users and 6 Colors for Professional users.
Highlight Comment: Leave a comment about the highlights you've made. 2 per page (For PDF, 2 per file) for Basic users and Unlimited for Professional users.
Highlight Collection: Save your highlights to different folders to keep them separate by purpose. 2 Themes for Basic users and Unlimited for Professional users.
LINER Use Cases
LINER can be used for a variety of purposes:
Use AI copilot on any Youtube videos with valid transcripts.
Ask anything to get answers instantly like ChatGPT, but with real-time information and references.
Deep dive with the next search keyword recommendations.
Save the answers for later use.
LINER Pricing Model & Details
LINER offers a free plan (Basic) and a paid plan (Professional).
The Professional plan costs $7.99 per month billed yearly ($95.99 per year).
The new pricing plan is based on $4.99/mo and $49.99/yr (15% discount for the yearly package).
Added on October 29 2023