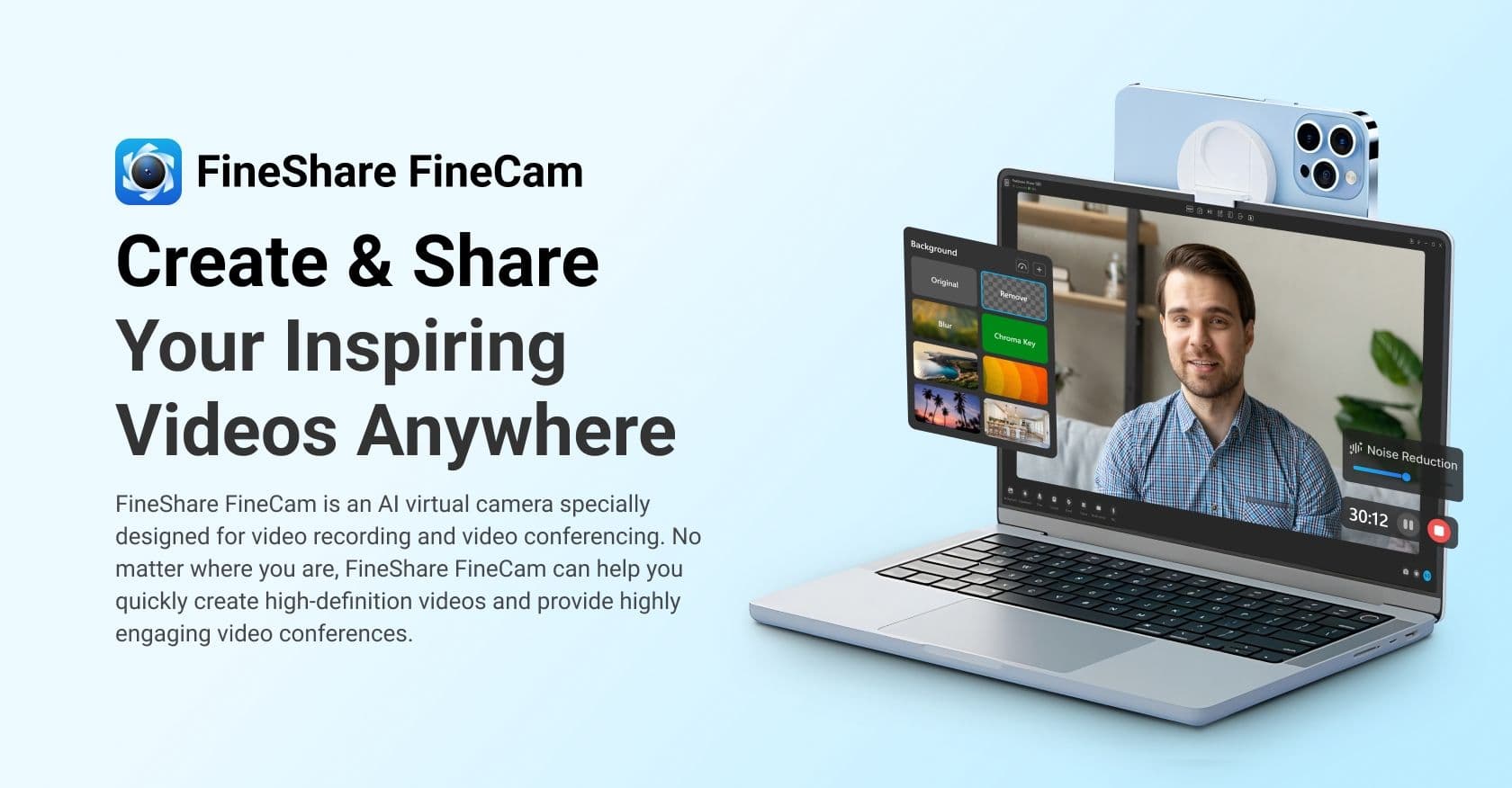 What is FineShare FineCam?
Enhance your video calls and recordings using the advanced features of FineShare FineCam, revolutionizing your video communication experience.
Tags
Last month visits
1M
FineShare FineCam: A Smart and Powerful Webcam Software
FineShare FineCam is a new webcam software that lets you turn your mobile device into an HD webcam for your PC and Mac. It also allows you to remove, blur, and change your webcam background with one click, powered by AI. Whether you need to create high-quality course content, conduct engaging video conferences, or simply chat with your friends and family, FineShare FineCam can help you achieve your goals.
Features of FineShare FineCam
High-definition video and audio: FineShare FineCam uses your mobile device's camera and microphone to deliver crisp and clear video and audio to your computer. You can choose from different resolutions and frame rates to suit your needs.
Background removal, blur, and change: FineShare FineCam uses AI technology to automatically detect and separate you from your background. You can then remove, blur, or change your background with one click. You can also use your own images or videos as backgrounds.
Easy to use: FineShare FineCam is easy to set up and use. You just need to download the app on your mobile device and the software on your computer. Then, scan the QR code or enter the IP address to connect them. You can then use FineShare FineCam as a webcam in any app that supports it, such as Zoom, Skype, Teams, etc.
Massive free resources: FineShare FineCam comes with a rich library of images, sound effects, and templates that you can use to enhance your videos. You can also access more resources from the FineShare website.
FineShare FineCam is available for both iOS and Android devices. You can download it for free from the App Store or Google Play. The software for PC and Mac is also free to download from the FineShare website. However, some features and resources may require a premium subscription. The pricing plans are as follows:
Free plan: You can use FineShare FineCam for free with limited features and resources. You can remove ads by watching a video or sharing the app with your friends.
Monthly plan: You can unlock all the features and resources of FineShare FineCam for $9.99 per month. You can cancel anytime.
Yearly plan: You can save 50% by subscribing to the yearly plan for $59.99 per year. You also get a 7-day free trial.
FineShare FineCam is a smart and powerful webcam software that can help you create professional-grade videos with ease. Try it today and see the difference!
Added on February 19 2023