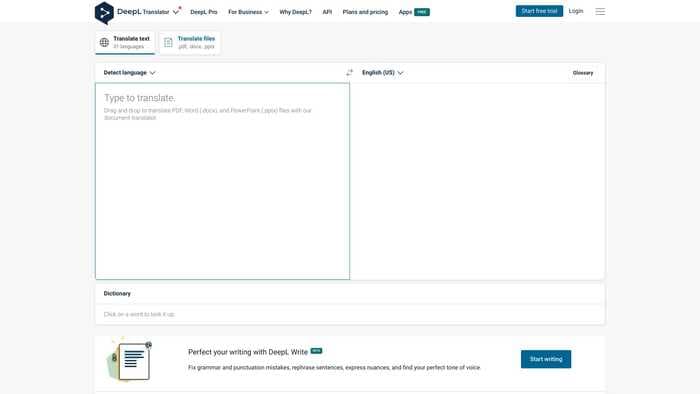 What is DeepL?
DeepL Translate: The world's most accurate translator. Translate texts & full document files instantly. Accurate translations for individuals and Teams. Millions translate with DeepL every day.
Tags
Last month visits
246.3M
DeepL Product Introduction
DeepL is a neural machine translation (NMT) technology provider based in Germany that offers a best-in-class translation experience in 30+ languages and counting.
DeepL Product Highlights
DeepL's translations are over three times more accurate than the closest AI translation competitors.
DeepL supports a best-in-class translation experience in 30+ languages and counting.
DeepL provides support for 31 languages, with 650+ possible translation combinations.
DeepL Features:
Document translation functionality: In addition to text translation, DeepL allows users to upload entire documents for translation, providing a useful feature for individuals and businesses working with multilingual content.
Data privacy: Based in Germany, DeepL is subject to European Union data protection laws.
Glossary support: Users can customize their translations with the right words and phrases for their context by setting rules to ensure their key words and phrases are always translated correctly.
DeepL Use Cases:
Website translation, especially for e-commerce companies or publishers with a large catalog of content that changes frequently.
Cross-language communication via chat apps or customer service platforms, where content is user-generated and needs to be translated on the fly.
Business communication across borders.
DeepL Pricing:
DeepL Pro — fast, accurate, and secure translations
Added on October 30 2023