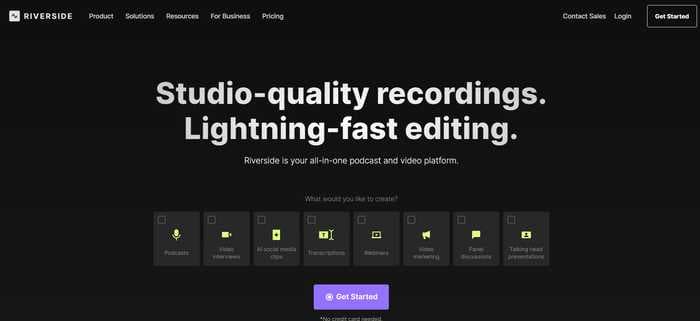 What is AI Transcription by Riverside?
Transcription service for video and audio files.
Tags
Last month visits
2.5M
Riverside.fm: A Comprehensive Overview
Riverside.fm is a platform that enables local recording of lossless audio and 4K video tracks independent of internet connection speed. It's designed to simplify the process of creating amazing content. It's a dedicated podcast creation tool, packed with features to help you produce content, and share it online.
Riverside.fm is an all-in-one podcast and video platform that offers studio-quality recordings and lightning-fast editing. It provides studio-quality audio and 4K video, setting it apart from competitors. The platform offers a stable connection for remote podcasting and has an iOS app for on-the-go recording. Riverside leads in innovation with features like screen sharing, social live streaming, and 'Clips' for easy content repurposing.
Riverside.fm Features
Studio-Quality Recordings: Riverside records you and your guests locally, providing high-quality audio and video.
Lightning-Fast Editing: The platform offers quick post-production capabilities.
Separate Tracks: Separate audio and video tracks for you and each of your guests for more control in post-production.
AI Transcriptions: The AI engine supports over 100 languages and can transcribe recordings in seconds.
Text-Based Editor: Allows for searching the transcript for specific content, making editing quicker and more efficient.
Magic Clips: New feature powered by AI that allows users to create short-form clips with a single click.
No Credit Card Needed: Free plan available.
Riverside.fm Use Cases
Riverside.fm is used by a wide range of individuals and businesses for various purposes such as:
Podcast and video recordings
Panel discussions
Video testimonials
Educational content capture for leadership messages, mentorship calls, hands-on trainings, and more
Riverside.fm Pricing Model & Details
Riverside.fm offers both monthly and yearly plans. The pricing for Riverside.fm starts at $7.50 per month. Riverside.fm has 3 different plans:
Basic at $7.50 per month
Standard at $15.00 per month
Pro at $24.00 per month
Top Riverside.fm Alternative Products
Descript: Descript is an audio word processing platform that enables editors and producers to edit sound files while a writer would edit its lyrics
Camtasia: More than a simple screen recorder, Camtasia gives you the tools you need to truly customize and edit your videos
Fathom: Fathom records, transcribes, highlights, and summarizes your meetings so you can focus on the conversation
Audacity: Audacity is a free and open-source audio editor
Adobe Audition: Adobe Audition is an audio editing software and is one part of Adobe's Creative Suite of software products
Loom: Loom is a video messaging tool for work. It allows you to communicate more effectively with video messaging
Zencastr: Zencastr is a podcasting platform that allows you to record your remote interviews in studio quality
CleanFeed: CleanFeed is a simple, free, and reliable online audio recorder
Remotely.fm: Remotely.fm is a free alternative that allows you to record podcasts remotely
Ennuicastr: Ennuicastr is a web-based tool for high-quality recording of podcasts and interviews
Squadcast.fm: Squadcast.fm is a platform for recording professional-quality podcasts from anywhere
Top Riverside.fm FAQs
1. What is Riverside AI?
Riverside is an AI transcription tool that allows users to transcribe audio and video files in over 100 languages quickly and accurately. It offers a user-friendly interface, high accuracy, speaker detection, and supports multiple file formats.
2. Is Riverside better than Zoom?
Reviewers felt that Riverside.fm meets the needs of their business better than Zoom. When comparing quality of ongoing product support, reviewers felt that Riverside.fm is the preferred option.
3. What is Riverside AI translation?
Riverside uses AI to transcribe conversations in dozens of languages, including the top-requested ones.
4. Is Riverside FM free?
Yes, you can sign up for a free account on Riverside with your name and email address.
5. Why is Riverside fm so popular?
Riverside.fm is popular because it allows content creators to make remote audio and video recordings that are of studio quality.
7. Which is better Zencastr or Riverside?
Reviewers felt that Riverside.fm meets the needs of their business better than Zencastr. When comparing quality of ongoing product support, reviewers felt that Riverside.fm is the preferred option.
8. What is the riverside app?
The Riverside mobile app allows you to join a Studio session and record wherever you are with your device's high-resolution cameras. You can use the app to record a podcast with your phone. The app is available for both iOS and Android devices.
9. What does Riversidefm do?
Riverside.fm is a podcast creation tool that makes it easy to record remote podcasts and video interviews that look and sound like they were recorded in the same room.
10. Does Riverside screen record?
Yes, Riverside allows you to share your screen with your guests or audience in real time and record your screen at the same time.
Tags: riverside transcription, ai transcription free, riverside fm login, best ai transcription, riverside fm pricing
Added on May 30 2023